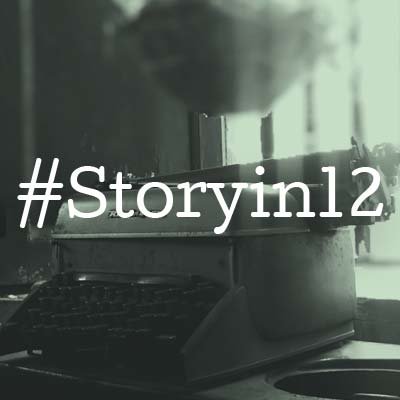 Another month, another collection of micro fiction for
#StoryIn12
, the flash fiction meme on
twitter
, hosted by
Molly
(aka
@mollysdailykiss
) and
Wriggly Kitty
(aka
@Wriggly_Kitty
). This time I have surpassed myself and actually managed to come up with a story for all 31 daily prompts.
Here are this month's contributions:
Vice – The migraine felt like his head was being crushed in a vice.
Letter – One letter at a time, he slowly deciphered the secret message's meaning.
Husband – She didn't need a husband, all she really needed was a lover.
Sunday – Sunday: the end of the weekend, a new week full of potential.
Fight – Not wanting to fight, he retreated into the safety of the shadows.
French – He couldn't speak French but he understood her intention; desire is universal.
Grace – He said grace, then lent forward between her legs to taste her.
Barefoot – Walking barefoot through the breaking waves was one of life's simple pleasures.
Reflection – The reflection didn't lie, instead it told an all too painful truth.
Broken – The effort of staying strong for so long had finally broken him.
Filthy – I'm in such a filthy mood, it's probably best to avoid me.
Cream – It had a texture like cream and left a rich, bitter aftertaste.
Dance – Dance like no one is watching. She danced, and no one was.
Circle – One at a time, taking each other's hands, they completed the circle.
Swallow – "You may swallow now, little one", he said softly, "It's your reward".
Victory – They called it victory but it came at too high a price.
Remedy – There were no quick fixes available. A full remedy would take time.
Honour – The offer of her submission was an honour he could not refuse.
Dead – Another day of coming to terms with the fact I'm not dead.
Taste – The taste of her lingered on his lips long after she'd gone.
Message – Smiling, she tilted her screen away to read his message in private.
Judge – Judge me if you wish. I am who I am; nothing else.
Rose – She rose; a triumphant phoenix from the ashes of her former self.
Demand – It was a simple demand, but it would have a profound impact.
Attack – It was a surprise attack and it was devastating in its effect.
Exam – Opening the envelope, dread turned to joy upon seeing his exam results.
Wine – She tasted like a fine wine; an intense pleasure on my tongue.
Imaginary – Unlike her husband, the imaginary lovers of her fantasy satisfied her completely.
Satisfied – As it always did, his tongue left her drained but completely satisfied.
Knock – The gentle knock at the door startled her out of her daydream.
Nasty – It could have been a nasty fall. Only his pride was hurt.
KW